The Fun and Festive release by Simon Says Stamp is now live and I'm ready to show it off! I've been playing with some of the new products all day today and I have two cards to share with you using a few of them. I have a watercolor card set in this release called Suzy's Snowmen Watercolor Prints. Here is an image:
I'll have all 12 of these cards painted to show you on the first day of the blog hop tomorrow (Thursday, October 11th) so come back and visit to see them made into actual cards. My two cards that I have to share with you today use some of my other favorite products in this release - here are some images and links: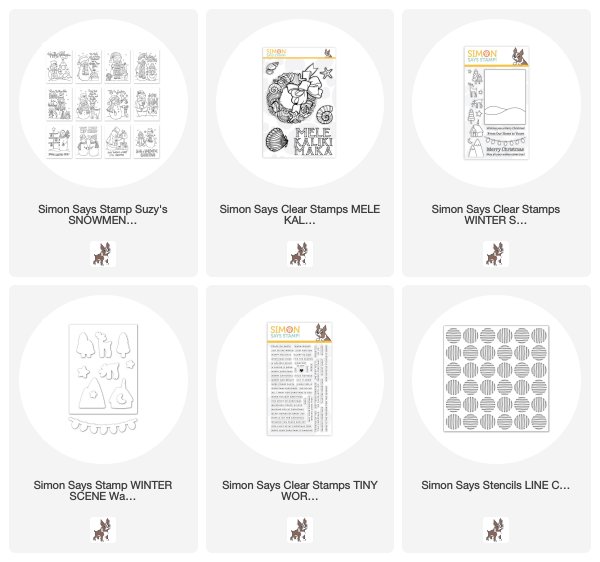 Card 1:
First off, the background. How cool is that background!!! This Line Circles stencil is really awesome and it looks so good used with the Tonic Moonstone Glimmer Paste. I just rubbed it over the stencil using a palette knife on white cardstock. 
The large wreath is from the new Mele Kalikimaka Stamp Set. I stamped it with MFT Natural Ink and then colored it in with colored pencils. And then I went all crazy on it adding lots of Tonic Nuvo Drops. I used Strawberry Coulis Jewel Drops on the bow since they are clear. And then I used Ruby Slipper Glitter Drops on the edges of the bow. I used those as well as Orange Soda and Golden Sunset Glitter Drops on the items in the wreath. I also used Pale Gold and Copper Penny. I fussy cut around the wreath as well as an area inside it (I'm sure there will be dies in the future, but I don't mind cutting and it certainly saves money!).
I attached the wreath to the background. Last I stamped the sentiment from the new Tiny Word Christmas Stamps with Black Intense Ink on a Honey Bee Sentiment Banner (they fit perfectly as I'll show you in an image below).  
Card 2:
I made the background of this card with Texture Paste and the Medium Dots Stencil. I love the look of white on white so I didn't add any color to the Texture Paste. I just rubbed it over the stencil on white cardstock using a palette knife. 
I used the new Winter Scene Stamp set and Winter Scene die set for this card. I stamped the images on white cardstock with MFT Natural Ink and colored them in with colored pencils. After the blue area was colored, I overlapped the pencils with Copic Markers to smooth out the colors. I used a silver colored pencil for the stars. I used foam tape behind the scene and placed it on the background. I added some Glossy White Nuvo Drops on it as snow. 
I used a stamp from the same stamp set for the greeting stamping it with Black Intense Ink on another banner from the Honey Bee Sentiment Banner die set. 
New Tiny Words Christmas Stamp Set and Honey Bee Sentiment Dies:
I love the look of little words on thin strips of paper that all the card makers are using for salutations lately. This new Christmas Words Stamp Set is so perfect for the holidays. It includes sentiments that are spiritual and focus on Christ as well as traditional ones and fun ones. It can be used for all types of cards. I recently ordered the Honey Bee Sentiment Banner dies and realized the words fit perfectly on them - every single one of the words fits on one of these dies. They would look great embossed in white on black cardstock as well. \
Come visit again tomorrow for day 1 of the 2 day blog hop! I'll have my watercolor cards all ready to show off to you - coloring them is definitely more fun than drawing them! Thanks so much for visiting - there are links to all of the products I used in this post below. Suzy