Hey girls (and boys?!?!?!) - I'm finally back with a "one stamp, five ways" post! But I have (again) broken (my) rules and made it a "one stamp, SIX ways" post! Any objections? hahaha
Today's post is using the Simon Says Stamp stamp set called Encouraging Animals with a matching Encouraging Animals die set. It is full of cute little animals and cute little salutations to go with each. This set was part of their Encouraging Words release a few months ago. Here is an image:
There were so many options with this stamp set with six different animals/insects/birds and lots of salutations so you can use it for many different occasions. I didn't even use it for school even though two apply to that as my kids are too old for school cards! But I was still able to make 6 cards with the set just using all of the other choices! Here are my six cards:
CARD 1:
My first card uses the cute little cat with the sunglasses on. I just placed a large order with Simon Says Stamp for my birthday - I always us this occasion as an excuse to buy all the new stuff I want! One of the things I ordered were 2 of the patterned paper pads by Amy Tan - I love her colorful whimsical happy style, so I figured all the papers would be perfect for my cards. As I looked through them and saw this sunglasses piece from the On A Whim pad, I knew it would be perfect for this cat imageI I die-cut a piece of it and attached it to the front of a white card base. I die-cut a stitched oval from white cardstock to use as the base for the cat. I colored the background with light gray and light blue Copic Markers and used a fine tip black marker to draw a line for the ground.
I stamped the kitty with black ink on white cardstock and colored him (her?) in with Copic Markers. I then used my new Christmas present (yes, I buy my own Christmas gifts too haha) - a set of prismacolored pencils that I LOVE LOVE LOVE to add shading. I'm really enjoying using these pencils over Copics and watercolors. I was using only my glitter pens (which I still love and use), but these are giving me way more color choices for coloring! I left the kitty's skin rough so it looked like fur. I did discover if you color OVER the pencils with another coat of Copic Markers you can soften and blend the pencils in, but for this image, I left the pencil marks rough. I colored the glasses with a red glitter pen and used Tonic Nuvo Drops in Sea Breeze for the center of the glasses. I stamped the image with SSS Embossing ink and then embossed the sentiment with Ranger Red Geranium embossing powder. I used the same Sea Breeze Tonic Nuvo Drops for some droplets above the cat to finish the card. 
CARD 2:
This card goes way out of my usual style and techniques, so let's see what you think of this one! I loved this little toucan, but I couldn't think of a way to properly display him! So I kind of developed this background as I went! I started by using 3 colors of Distress Oxide Ink (Salty Ocean, Lucky Clover, Twisted Citron) with ink blenders on a white Ranger Watercolor Cardstock background die-cut with a large stitched rectangle. I rubbed all the colors in to give it a nice solid background. I used watercolor paper so I could drop water on it after to pick up and mottle some of the color. Well, I used my hand to drop the color on and instead of small droplets, it landed in big puddles! So I blotted it with a napkin and got this VERY mottled look of the background that ended up very green even though it was a sky scene! Oh well, I always go with my mistakes... Next. I decided to try and sketch a palm tree right on the background with a pencil and then went over it with a fine tip black marker. TIP: I always sketch with a black marker doing two lines around the image so it has a messy doodled look - which is how I cover up all my mistakes! I colored in the tree with colored pencils and they COVER THE INKS perfectly! I was so excited by this technique discovery!
Next. I drew and colored in the sun and sand, BUT, the green color of the background made the colors of these two areas have an undertone that I didn't like. So I die-cut a ground using the SSS Drifting Stitches Borders die and cut out a half circle for the sun from Mixed Media Paper (it's thinner than watercolor paper so it would blend into the background better). I colored both of these areas with colored pencils and then glued them down over the background. I had to cut the bottom of the tree from the background so I could layer it over the ground. I drew doodled lines around the sun and over areas of the ground so the look matched the tree. OK, I realize this was a time consuming technique and I could have done things much easier if I had planned it in advance, but I didn't waste my mistakes - I went with them!
Once the background was created (12 hours later haha), I stamped the toucan on white cardstock with MFT natural ink and colored him in with first Copic Markers and then added shading with colored pencils. I wanted him to have an outline, so I drew one in with a black fine tip marker. Yep, I always go for the time consuming way of doing things haha. I attached him to the background and stamped the sentiment on the sun with SSS Embossing Ink and Ranger Red Geranium embossing powder. I used several colors of Tonic Nuvo Drops to add dimension and drops to the background. I used Metallic Copper Penny drops on the sand and tree trunk, Chocolate Fondue glitter drops on the coconuts, Sunset Meadow glitter drops on the tree branches, and Orange Marmalade jewell drops around the sun. And the finished product? It's ok, but all that work gave me the courage to create my own backgrounds, taught me a bit about layering pencils over Distress Oxide Inks, and helped me learn how NOT to dribble water over ink backgrounds! Win, win, win!!!
CARD 3: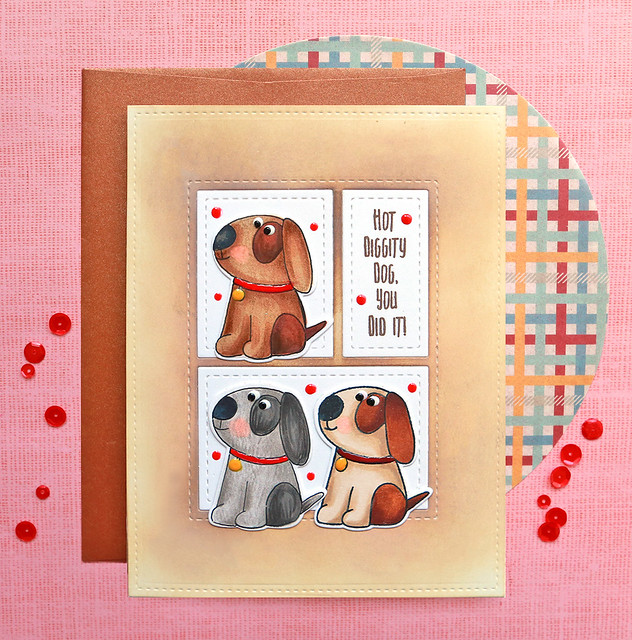 This was my last card (my extra card) - I always color my images before I start making cards, so I had three dog images I had colored and wanted to use them all on one card. I was trying to figure out how to arrange them and use this sentiment and I found this die-cut by PPP in my stash that worked perfectly for a background. I started by die-cutting a piece of white cardstock with a large stitched rectangle and then I used the PPP Storybook 1 die die-cut from the center of it. I then rubbed Distress Oxide Inks in Tattered Rose, Antique Linen, and Vintage Photo on the background with Ranger Blending Tools. I'm no Laura Bassen when it comes to ink blending, but I'm learning as I go I attached the frame to a white card base and attached the inside pieces left white to the inside areas. I stamped the sentiment in Vintage Photo ink in the smallest opening. I love that Distress Oxide Inks are so good for stamping (unlike their cousins Distress Inks). This allows you to match the tones of your background when using the inks for sentiment stamping.
I stamped the three dogs on white cardstock with black ink and colored them in with Copic Markers. I used my prismacolored pencils to add shading and "fur" on the dogs. I used Tonic Nuvo Drops in red for the collars and mustard for the center of the hanging tags. Now for my biggest animal tip - I love using a drop of white Nuvo Drops first for all eyes - I let it dry and then add a drop of black on the bottom of the white area to create the eye ball. Now, yes, one of my dogs is a bit cross eyed, but you have to admit these faux eyes add a nice touch to these doggies hahaha! I used some more of the red Tonic Nuvo Drops for droplets around the dogs after adding them to each of the openings on the card. 
CARD 4:
One of the things in my new birthday order was this Repeating Circles die-cut by SSS. I also mentioned earlier that I bought two of the Amy Tan paper pads - this piece in the back of this card came from the On A Whim pad. I created a base with a stitched rectangle die-cut from white cardstock and then die-cut the xxx die from the center. I then added some of the paper piece to a white cardstock base. I use a new set of Judikins Embossable Window Plastic Sheets that are exact card size (way easier than the 12x12 pieces of transparency I was using that were way too thick!). I used foam tape in two layers behind the card. I used PPP 3mm sparkling clear sequins and 4mm clear droplets in the opening and then attached the top of the card over the base. 
I stamped the sentiment on the bottom of the white piece with black ink and my Misti BEFORE I made this into a shaker card. I stamped the two whales on white cardstock with black ink and colored them in with Copic Markers and added shading with colored pencils. I used another layer of Copics over the colored pencils to blend them and smooth them. I love layering these two coloring mediums! I attached the two whales (a gray whale and a blue whale as I have seen both on my whale excursions!) over the card with their spouts above them. I finished the card with some Sea Breeze Tonic Nuvo droplets.
CARD 5:
And of course, because I am predictable, I have a random stamping card. I started with a stitched rectangle die-cut from watercolor paper. I stamped all of the images using black ink and my Misti (which I always use for random stamping). I painted all of the images and the background with Daniel Smith watercolors. I then added some shading and additional color over the watercolors with Copic markers and colored pencils. I tell ya, this new mixing of coloring mediums is ALL new for me and I love it! I also added some glitter pens and a white uniball for details over the top of the images. 
Another one of my new products was this cute Happy Birthday die by SSS. I die-cut it in both black and white cardstock and layered them over the background. I don't like die-cut words to get lost on busy backgrounds, so by attaching the black behind the white as a shadow, the letters pop more. I used my favorite Tonic Glue to attach them as it has a super fine tip that allows you to use just the right amount of glee and it NEVER CLOGS!!! I used some Morning Dew Tonic Nuvo Drops  over the top of the letters once they were glued down to give them sheen and dimension. I added some black nuvo drops around the images. And of course I used white and black drops for the eyes on all the creatures!
CARD 6:
This was my most simple card. I used the Amy Tan paper pad called Hustle and Heart and die-cut a stitched rectangle from this cute striped paper. I die-cut a SSS stitched square out of white cardstock. I stamped the sentiment with SSS embossing ink and used Ranger Pink Peony embossing powder. I had also purchased these cute epoxy photo corners by American Crafts called Hazelwood Enamel Accents so I used them on each corner of this square and attached it to the card base.
I stamped the little bear and bee on white cardstock with MFT natural ink and then colored them with Copic markers and added shading and fur with colored pencils. I outlined the bear with a fine tip black marker. I attached the two images over the white square and then added some little black lines for the bee. I used English Mustard Tonic drops over the center of the flower and white around the background to finish it. 
I am the most wordy card blogger you probably ever visit and I hope some people enjoy/learn from all my words! I really enjoyed working with this darling Encouraging Animals stamp set! Thanks so much for visiting today and since it is Monday when I type this, have a great week friends! All of the products I used on these six cards are listed below! If you have a birthday coming soon, use it as an excuse to shop for your favorite products - or Mother's Day is coming and is another great excuse to go shopping for yourself! Suzy